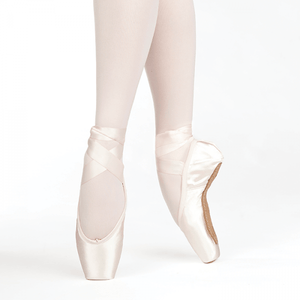 Russian Pointe Almaz U-Cut Flex Soft Shank
Like its namesake gem ("diamond"), Russian Pointe's Almaz U-cut pointe shoes sparkle with crystalline beauty, flattering the foot with the clean lines of a pleatless toe platform and sleek heel, and pliable, long-lasting shanks. The medium platform size and somewhat tapered box are ideally suited to dancers with moderately tapered toes, and the low crown hugs toes that are shallow to moderately full. The U-Cut pointe shoe features a drawstring, which provides a customized fit.
We recommend an in-store pointe shoe fitting to find the correct fit. Ribbon and elastic sold separately.
Also available in V-Cut; Shanks also available in Flex Medium, Flex Hard, and Hard.