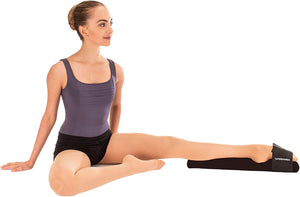 SuperiorArch
The SuperiorArch arch stretcher is a product that evolved from feedback received from dancers who had used similar products in the past. It offers a unique design that includes several key benefits.
First, the base of the SuperiorArch is not just a flat board like some other products use. Instead, it has a custom-designed incline molded right into the base, which allows room for the heel to rotate down avoiding impingement of the heel bones. Also, high density foam pads are placed at the arch and heel contact points, further enhancing the desired arch shape while providing a comfortable fit too.
In addition, the SuperiorArch utilizes an adjustable Velcro flap to secure the foot in place. This gives dancers a more adaptable fit, ensuring it not only fits dancers of all sizes, but will also continue to fit as the dancer's feet grow and change shape.
On top of the base and foam pads are two inches of additional premium foam. This product is really comfortable, easy to use, and very effective.
Access to free instructional videos is included.