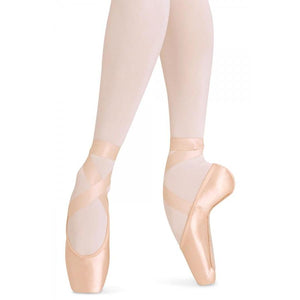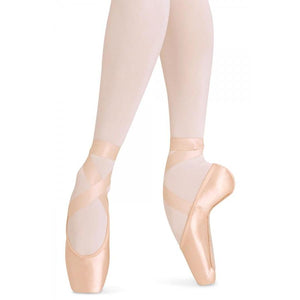 Bloch European Balance
Bloch's European Balance pointe shoe has a curved last that follows the natural contours of the foot, providing comfort and injury protection. It's tapered box creates a snug and secure fit, providing support. The generous platform encourages balanced weight distribution and reduces pressure on individual metatarsals. The medium strength shank promotes foot articulation and can help the dancer achieve demi pointe. Inside the box at the platform is a soft sponge cushion insert which gives extra comfort and protection when standing 'en pointe' and acts as a shock absorber. The shoe also features a diagonal side seam that reduces satin creasing and an elastic drawstring that creates a streamlined, snug fit. Ribbons and elastic sold separately.
Women: Go 2 to 2.5 sizes down from street shoe size. An in-store pointe shoe fitting is recommended to find the correct fit.
Style Number: ES0160L